Meetings...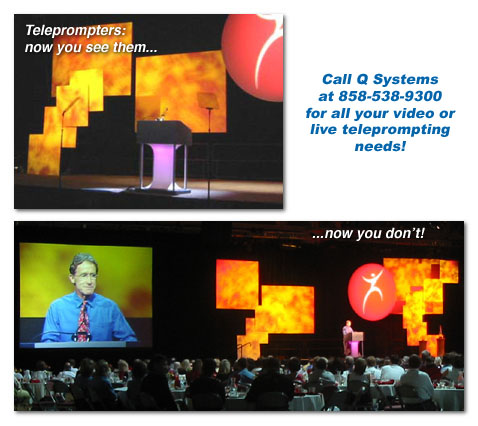 Since 1990, Q Systems Teleprompting has provided teleprompting support for awards ceremonies, conventions and speeches. We've even prompted the current President of the United States. In fact, you've probably seen what is referred to as the "Presidential" prompter system, with two pieces of special glass (called "beamsplitters") on poles. The system allows anyone to deliver an engaging speech without having to memorize-- and all the while maintaing eye contact with your audience. It's the technological secret that reduces the anxiety for the speaker who needs to deliver an authoritative speech at a convention but doesn't have time to memorize or work from notes. Once you've tried it, you'll never go back to looking down at a printed script or notecards again! And again, thanks to the newest LCD screen technology the system is lightweight and portable, making it economical to travel to your meeting in Las Vegas, Florida, or anywhere in the U.S.A.!
Past Meetings:
20th Century Fox Home Entertainment, American Physical Therapy Association, American Express, American Society of Association Executives, American Transportation Safety Services Association, Associated Brands, Association of Corporate Travel Executives (ACTE), Association of Fundraising Professionals (AFP), Black Enterprise Magazine, BOMA International, Busch Entertainment Corporation, Canon Computer, Choice Hotels/Comfort Inns, City of Chula Vista Mayor's Office (State of the City Address), City of San Diego Mayor's Office (State of the City Address), Coral Ridge Ministries, Continental Tire, DC Comics, Federal Express, General Tire, GMAC Real Estate, Graham Webb, Intl., The Healthcare Forum, International Association for Exposition Management, International Jewelers Association, Johnson Controls, Leading Real Estate Companies of the World, McKesson, Mechanical Contractors Association of America, Merck-Medco, NASSCO, National Association of Record Merchandisers, National University, Nestle Foods, Next Level Systems, Ocean Spray, Oracle Applications Users Group, Palmetto Health Group, PriceWaterhouseCoopers, Public Relations Society of America, RE/MAX, Sales Mastery Seminars, Schering/Key Pharmaceuticals, Sharp Electronics, Sharp Healthcare, Siemans, Smooth Jazz Awards, Society for Critical Care Medicine, Society of Thoracic Surgeons, Sprint Data Solutions, StorageTek, Uniglobe Travel, Uni-Vite, UAW, Yamaha Marine.

And many, MANY more...