On-Camera Video Systems
Since 1990, Q Systems Teleprompting has provided on-camera teleprompter services for video and film productions ranging from small executive message videos to live multi-camera shows. We utilize state-of-the-art Telescript™ software and lightweight flat-panel camera mounted systems, including special high-brightness systems for outdoor shoots. We offer very competitive rates, so if you're planning on shooting in San Diego or in the vicinity, call us at (800) 538-9301 or send us an email through the form on our Contact Page and we'll get back to you right away!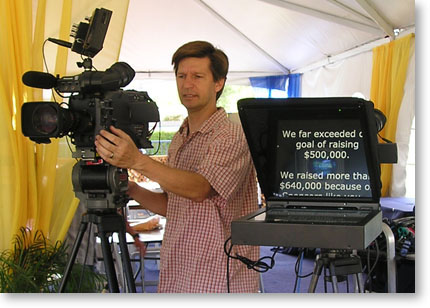 Sample of Past Video Shoots:
The American Red Cross, Anthony Robbins, Armour Golf, B.F. Goodrich Aerospace, Barona Casino, Blue Sky Software, BodyVision, BreathAsure, Bristol Farms, Brut by Faberge, Calvary Ranch, Century 21, Chase Manhattan, Chevrolet, CNN, The Cronkite Report, The Discovery Channel, Directed Electronics, Doughty Hanson, & Co., Dura Pharmaceuticals, E! Channel, EA Sports, Epson USA, ESPN, Fit TV, Fluor Corporation, Jack In The Box, FOX Sports, G4TV.COM, General Instrument, Gigatron, GMAC Real Estate, Guidant, The Healthcare Forum, Hewlett Packard, The History Channel, IBM Insurance Services, Intuit, Jenny Craig, Johnson Controls, Kaiser Permanente, Kathy Smith, Kingsley Machine Co., Kinkos, KPBS-TV Public Television, Leading RE, Mail Boxes Etc., Mary Kay, McDonalds, NFL Films, Original Hollywood Celebrity Diet, Pacific Clinics, Performance Toolworks, PETCO, Qualcomm, RE/MAX, Rockwell International, RSA Security, Sales Mastery Seminars, The Salk Institute, Salvation Army, San Diego County Department of Health and Human Services, San Diego Union-Tribune, San Diego Zoo, Schering/Key Pharmaceuticals, Sea World, Sid's Carpets, Siemans, Smith & Nephew Donjoy, Sony, Sprint Data Solutions, StorageTek, Stu Segall Productions, Suzuki, Sycuan Casino, Symbol Techhnologies, TEC/The Executive Committee, Titan, TeraGlobal, TRW, Turner Adventure Learning, UAW, UFCW Local 135, UniVos, United States Immigration & Naturalization Service, United States Navy Blue Angels, United States Navy Military Housing, United States Postal Service, Verizon, Waxie, Wild About Animals, XETV Fox Channel 6

And many, MANY more...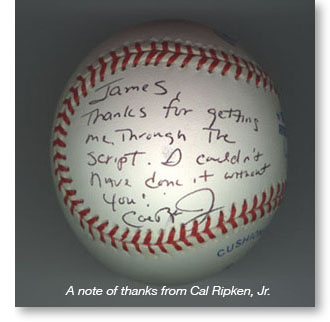 Some of the people we've prompted:
President Barack Obama, Buzz Aldrin, Anthony Anderson, James Avery, Corbin Bernsen, Pat Boone, Terry Bradshaw, James Brolin, Dr. Joyce Brothers, Pat Buchanan, Dick Butkis, Dana Carvey, Dennis Conner, Walter Cronkite, Cathy Lee Crosby, Billy Crystal, Bo Derek, Tony Dow, Dr. Wayne Dyer, Jennifer Flavin, Doug Flutie, Joan Embery, Roy Firestone, Antonio Gates, Mel Gibson, Melissa Joan Hart, Sheriff Bill Gore (San Diego), Peter Graves, Erin Gray, Jack Hannah, Mariette Hartley, Paul Harvey, Tony Hawk, Earl Holliman, Mayor Shirley Horton (Chula Vista), Gladys Knight, Robin Leach, Stan Lee, Hal Linden, Art Linkletter, Deanna Lund, Mayor Dick Murphy (San Diego), Willie Nelson, Mayor Steve Padilla (Chula Vista), Ty Pennington, Cal Ripken, Jr., Anthony Robbins, Roy Rogers, Bob Saget, Mayor Jerry Sanders (San Diego), Kathy Smith, Jer St.James (Jeff'n'Jer), Charlene Tilton, Lily Tomlin, LaDainian Tomlinson, Mayor Antonio Villaraigosa (Los Angeles), Bill Walton, Steven Williams, Governor Pete Wilson (California), Wolfman Jack.